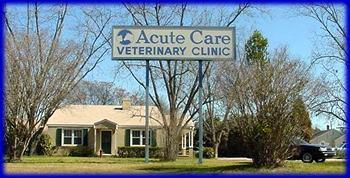 Welcome to Acute Care Veterinary Clinic!

Realizing your pet is a valued family member, our goal at Acute Care Veterinary Clinic is to help your pet live a longer, healthier life. To accomplish this we offer a wide variety of medical, surgical and dental procedures. We also encourage regular physical examinations and preventative health care. Underlying it all is our commitment to treat your pet like one of our own.
In addition, our canine and feline boarding facilities are clean, comfortable and climate controlled. Bathing and grooming are also available and performed by experienced, compassionate professionals.
We at Acute Care encourage the human-animal bond and hope we can be of service to you.